Description
10ft reefer container For Sale

This range of new (one trip) 10ft reefer containers and cold stores are the best we have found for anyone looking for domestic temperature-controlled storage options. They all come with doors you can open from the inside so you can't get trapped, and can come with lighting already fitted inside covering the majority of potential requirements for walk-i fridges or freezers (whereas a normal shipping container would not come with these features included, and depending on how you intended to use it you may be required to then fit man trap alarms and escape options).
This small 10ft reefer container i.e. 3 m Reefer Container is a perfect choice for you when you need a small thermally controlled space for storage. This small Reefer Container is very popular in events as well as in test use, as it offers a thermally controlled space between -40 °C and +30 °C with one-degree accuracy. In addition, the containers come with a standard humidity control which allows you to set the humidity in container between 50 and 99%. All new Reefer Containers are equipped with highly efficient ThermoKing Magnum Plus machinery with an easy-to-use control panel with a display.
Buy 10ft reefer container | 10ft refrigerated Container
This 10ft reefer container is available in single and three-phase power options. As standard, the unit features security features and alarms that ensure the safety of your goods and staff members. The refrigerated container is equipped with easy-open doors that provide fantastic access and is well-lit throughout. Its stainless steel interior and non-slip floors provide the perfect environment for the safe, efficient storage of your product.
Queen Containers is one of America's leading manufacturers and suppliers of shipping containers, delivering them throughout the USA, individuals and to the mining, construction, agricultural and corporate sectors. We offer new, used, modified and customized shipping containers for sale in a variety of sizes and types, with fast and efficient service direct to your worksite, business or home. And with multiple depots all over Australia, we can usually have your order to you within a few days.
The interior surfaces of the container are made of stainless steel and aluminum so they are easy to keep clean. 10ft reefer container come with a standard flat or T-grid floor, lights, PVC strip curtains, and easy-to-use lockable double doors. We grant a 5-year machinery warranty of the manufacturer for new containers, calculated from the date of manufacture. We are the official warranty service provider for ThemoKing and Carrier Reefer Containers, so you are in good hands with our containers. See more information in the warranty conditions.
You can order your 10ft reefer container from Queen Containers at any time of the day or night. This process is entirely digital with an easy check-out process. So easy, you can complete your order in only a few minutes.
However, please be advised we are selling you a new refrigerated shipping container. If using these as a walk in fridge or freezer it is your responsibility to ensure that the unit meets all current regulations and standards for its use. As these are made to one universal design and then sold worldwide the manufacturers won't guarantee suitability for a specific market.
The container requires 5-pole 32A power supply to operate. The container is easily moveable from one place to another with a forklift or crane and can also fit in places where the general 6 m model cannot. Please note that the minimum size for ocean transport is 20 feet (6 m), so you cannot send this container as an ocean freight like a normal container. The container is only suitable for ocean freight when attached to another 10 foot container or as mixed cargo. The containers have a valid CSC plate and they are also ISO compliant.

Queen Containers offers several shipping options. If you select one of the delivery options, your container will be delivered to your location within the delivery window you've selected after the order payment date.
Dimensions of the container
Dimensions
Length: 2991 mm, Width: 2440 mm, Height: 2591 mm
---
Inner dimensions
Length: 2360 mm, Width: 2292 mm, Height: 2276 mm.
---
Capacity: 12,5 m3
For those that need their containers quicker, select the pick-up option and you can pick up your container the following business day after placing your order. If you choose the pick-up option, you can pick up your container the following business day after placing your order.
Features
Food grade cold storage for a wide range of products

Entirely waterproof for outdoor use

Man trap alarms for staff safety

Easy open doors for hassle-free storage

Interior lighting for safety and convenience

Stainless steel interiors and smooth coated, non slip floors

Sight and sound alarms for total peace of mind
Technical Specification
Temperature range -40°C – +10°C

Thermoking refrigeration

Up to 4 pallet capacity

Can be provided with either Zanotti or Carrier refrigeration

Single and 3 phase power options available
Further Information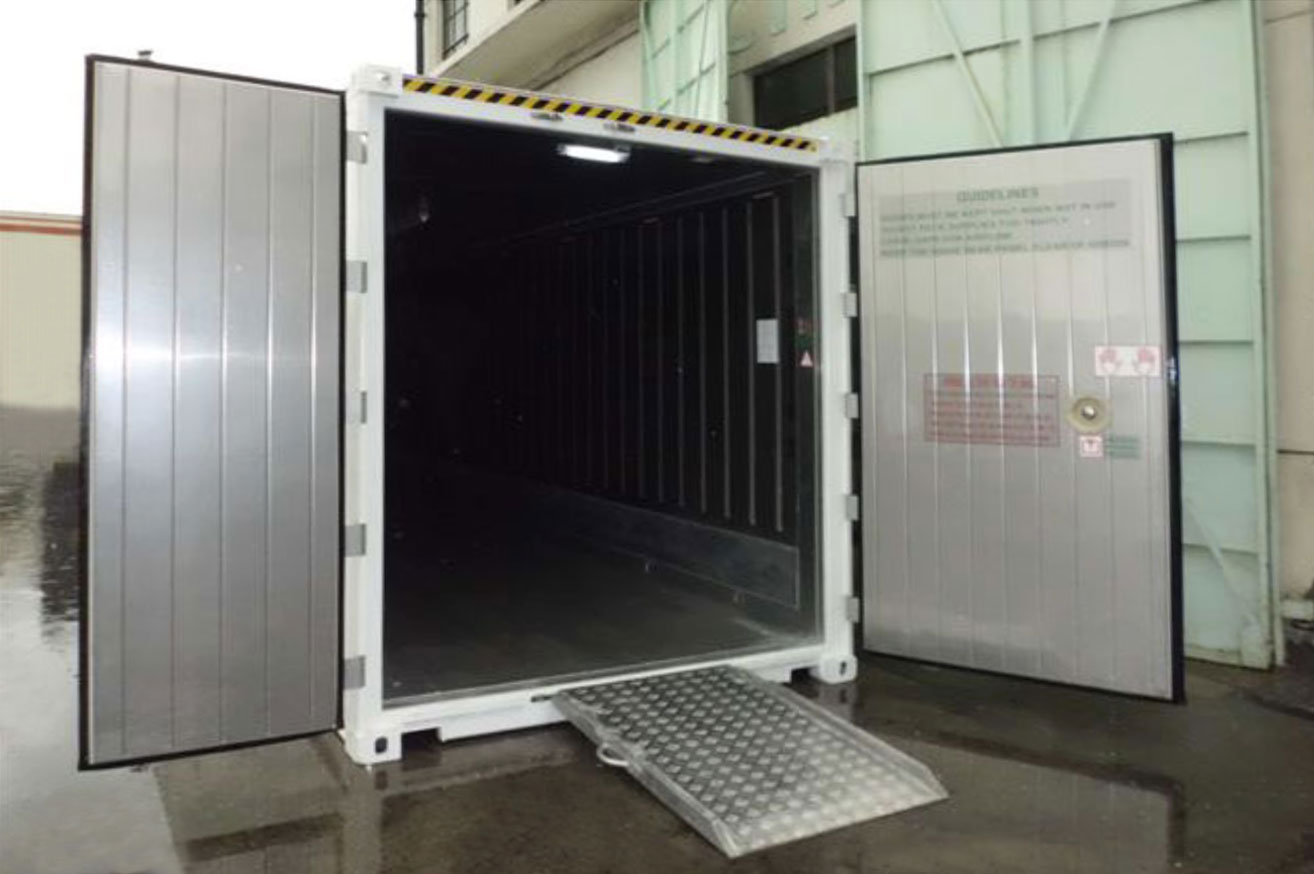 Our 10ft reefer container is ideal for those looking to expand their existing cold storage capacity or those looking for a temporary cold storage solution.
A key benefit to the 10ft Refrigerated Container from CRS, is that it is entirely weatherproof and has been treated to prevent rust. This weatherproofing, makes it ideal for placement outside, making use of valuable space outside and freeing up internal storage space. So, if you have limited space inside and unused outside space, it's time to make it start working for you with a 10ft storage container from CRS. A fantastic cold storage facility that is not only cost effective but is also highly efficient.
Buy 10ft Refrigerated shipping container
we deliver shipping containers to and partner with customers from major industries, such as commercial, construction, retail, education, and theme parks. We help you arrive at the perfect price for containers.
We rent at a 30-day billing plan at no extra cost, unlike the usual 28-day billing cycle. Mobile Modular Portable Storage delivers the shipping containers in excellent condition and delivered on the scheduled day with our own fleet of trucks and trailers. This means you can expect delivery according to your timeline.
We serve multiple locations across the US. Speak to our dedicated support team for custom options and a free quote.
Although we like digital efficiency, we will always stay human. This means you can easily call, e-mail or chat with us through our U.S.-located customer service department. Long Beach Off-Coast Port delivers shipping containers quickly and at the fairest price online – exactly what you need. And our fully digital operation is far more sustainable than other businesses.
What does "handling fee" mean?
Every time a container, whether it is a container for lease or sale, is moved around a depot, it requires a lift. The handling fee is a one-time cost that covers moving the container around in the depot areas. The fee is only applicable when you lease a container or have a one-way deal with us. We never charge you a handling fee when you buy a container outright, so there are no hidden costs.
What do the different container delivery options mean?
It does not matter if you buy or lease a container; MC Containers can deliver it to you. We use a variety of container delivery methods, including the following container trucking methods:
Chassis / CPT (Carriage Paid To)

On ground / DAP (Delivered At Place)

FOT DEPOT / FCA (Free Carrier)
Chassis delivery means that your new, used or modified container will be delivered to the destination on a container chassis. However, this service does not include removing it from the chassis. If you decide to buy a container, it is your responsibility to organize a crane or another piece of machinery to offload it. This is the most common container delivery method in Europe due to the better availability of trucks and cost effective rates.
On Ground Deliveries are done with a truck that can drop the container to the ground with it's own equipment. Normally, the container delivery is done using a side loader or a truck equipped with a crane. The standard delivery price includes 30-45 min of unloading time per container and any extra time is billed at an hourly rate. If you don't have a crane available or cannot organize one then this is the best and only option for you.
FOT DEPOT means Free on Truck in depot. With this container delivery method, the buyer is responsible for organizing a pickup from the chosen container depot. The seller will organize a lift to the chassis in the container depot, so you will not need a crane or side loader for the pickup.
Financial Lease

Would you like to buy a container, but the price is just too much for your budget to pay in one payment? No worries, together with our partner we offer a flexible financial container lease service. We offer our clients the possibility of buying containers through a financial lease plan. This enables fast delivery with little capital investment. This payment type is only possible for clients with a European VAT ID.

Fast handling times and delivery of containers

Staggered affordable payments

Requirements

To order a shipping container through our lease plan service, the minimum order must be at least 500€, and the person leasing must have a European VAT number.

How long can a 10ft reefer container be used?

Shipping containers are made of corten steel. This sturdy material enables them to withstand extreme circumstances (wind, water, fire, ice, salt, sun) and any possible rough handling. A shipping container is used from 5-14 years for shipping; after this, they are released and used for other purposes, such as storage containers or modified container units for food and offices.

10ft reefer container that are not used for shipping are perfectly suitable to be used as storage containers. If taken care of, a used shipping container can be used for storage up to 10 years. It is also possible to extend the storage container's use by regular maintenance, such as, painting, patching holes, changing seals, fixing the floor and taking care of or changing twist locks.

New shipping containers are usually brought to Europe from China. A new container can last anywhere up to 30 years when used as storage as long as it is looked after properly.
10ft reefer container conditions.
NEW "One Trip" containers are shipped from Asia with a single container cargo load. These containers are referred to as "new" or in "like new" condition. One trip containers are ideal if appearance and longevity are top priorities.
USED cargo worthy containers are certified for global transport based on the condition of the doors, floor, walls, and ceiling. Dents, rust, and corroded paint may be present. The unit is leak proof.
Using Your Container For Export? You'll Need a CSC Survey.
For customers who plan to export their container, please make sure to purchase a CWO (cargo worthy) or One Trip container as well as a CSC Survey. Please note that we cannot move loaded containers, and strong recommend customers that are exporting their container work with their shipping company to pick-up the container after the survey is complete.
Buy 10ft reefer container |
10ft refrigerated Container
Queen Containers warranty.
Each storage container is durable, secure, and weatherproof. The Warranty Coverage Period for New ISO shipping containers is ten years from the date of purchase from Queen Containers. The Warranty Coverage Period for Used Cargo Worthy ISO shipping containers is five years from the date of purchase from Queen Containers. A leak-proof unit guarantee is included.
During the warranty period, Queen Containers will repair, using new or refurbished replacement parts, or replace units or parts of a container at no charge. The container must prove defective because of improper material or workmanship, under normal use and maintenance.
Queen Containers Delivery services
Queen Containers transforms an essential service into the customer experience with on-demand storage unit delivery services for customers. We need to know things like door direction, and site contact, and that you have enough space for the truck to deliver the container safely.
Customers have scheduled deliveries to ensure consistency. At Queen Containers, we have a dedicated team that helps our customers to plan better and operate smarter. Emergency transportation services are available. Reduce your overall logistics costs and request our 3 – 7-day truck and trailer delivery move.
We believe in providing up-front and transparent pricing to our customers.
10ft reefer container For Sale | 10ft refrigerated Container
Queen Containers has a huge selection of shipping containers for sale. In addition to selling the standard General Purpose, High Cube and Side Opening containers, we are proud to be Australia's specialist supplier and manufacturer of modified shipping containers.
From site offices, first aid rooms, portable accommodation, kitchens, lunch rooms, and switch rooms; to storage containers, dangerous goods containers, training containers and ablution blocks. Whatever your work-site or property requires, Port can modify a container to perfectly match your needs.
Disclaimers aside, these are the best spec units we have seen and are especially designed for the domestic storage market. Offering terrific value over any other new similarly sized walk in fridge, freezer or ambient temperate store, and virtually unbeatable build quality and level of insulation these units should last an excessively long time if well maintained (we regularly see refrigerated shipping containers working that are over 25 years old). Generally speaking if you look to buy a used refrigerated container you will not have any optional extras available at all (lights, man trap escape options etc)
Also worthy of note, a new 20ft refrigerated shipping container or a new 40ft refrigerated shipping container will typically be the much better value for space option.
We can also offer nationwide delivery and installation (commissioning), and our engineers can happily offer on-going maintenance and repair services including 24 hour call out.
How to Buy a 10ft reefer container:
Pick-up: 2-3 Business Days
Delivery: 4-7 Business Days
After you order, we'll be in touch within one business day to confirm your order and coordinate the logistics. To ensure everyone's safety, only customers with the proper equipment should select intermodal depot pick-up (please allow 2-3 business days for release information). Delivery is optional and calculated at checkout by zip code.  Contact us with any questions, we're always happy to help.
Selecting the right container & 10ft reefer container
Browse the website for new and used containers that meet your requirements. If you are unsure please contact our container sales team for advice and information.  buy your container online. Select your container and accessories and follow the simple checkout process.
Our haulers need 80′ of additional space in order to deliver a 40′ shipping container (120′ of total space), plus room for the truck to maneuver. Please make sure you've got space for delivery. 20′ shipping containers are delivered on a different size truck, and so we only need an additional 55′ of space (75′ of total space) to deliver 20′ containers.